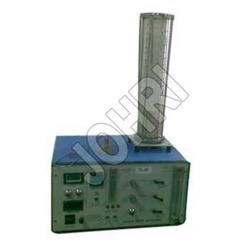 Limiting Oxygen Index Test Apparatus
Product Code : Test Apparatus
Price And Quantity
Minimum Order Quantity

:

As Per Requirement
Product Description
Laboratory Limiting Oxygen Index Test Apparatus As Per ASTM D 2863
Model STFRLS16
Scope:
To determine the minimum percentage of oxygen required to just support flaming combustion as candle like burning of a material at room temperature or at higher temperature.
Significance:
This method provides for the measuring of the minimum concentration of oxygen in a flowing mixture of oxygen and nitrogen that will just support flaming combustion of plastics.
Summary of Method:
The minimum concentration of oxygen in a mixture of oxygen and nitrogen flowing upward in a test column that will just support combustion is measured under equilibrium conditions of candle like burning. The equilibrium is established by the relation between the heat generated from the combustion of the specimen and the heat lost to the surroundings as measured by one or the other of the two arbitrary criteria, namely, a time of burning or a length of specimen burned. This point is approached from both sides of the critical oxygen concentration in order to establish the oxygen index.
General Description:
The "JOHRI" critical Oxygen Index Equipment incorporates the following features:
It is easy to operate.
It is suitable for routine and research operation.
Special Features of the Equipment:
Design meets ASTM D 2863-" Standard method of the test for inflammability of using the oxygen index method."
Direct read out of the critical oxygen index to a high degree of accuracy. It eliminates the operator error and calculations.
Easy sample loading and ignition system.
Technical Description:
Gas assembly and valves
Oxygen measuring system
Test column with heating
Temp. control module for temp. of the test column

The front panel has the following features:
The leads and connections on the backside are as follows:
Connection for Oxygen supply
Connection for Nitrogen supply
Connection for Air supply
Mains Lead
Fuse
Contact Us
NO. 177/8, Main Road, Chandan Vihar, Nehru Gali, Sant Nagar (Burari), Delhi, Delhi, 110084, India
Phone :+918068213673