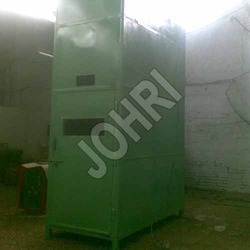 Flammability Test Apparatus
Product Code : Flammability Tester
Price And Quantity
Minimum Order Quantity

:

As Per Requirement
Product Description
Description
Laboratory Flame Retardant Test Apparatus For Bunched Wires & Cables

As per IS: 10810 (PART 62) 1993

IEC-60332-3-10:2000

Scope:

Apparatus covers the method of testing of a bunch of cables mounted vertically to determine their relative ability to resist flame prorogation pertain to any of the five test categories.

Significance:
The prorogation of flame along a bunch of cables depend on the number of features , such as:
The volume of the non-metallic material exposed to the fire and to any flame which may be produced by the combustion of the cables;
The geometrical configurations of the cables and their relationship to any enclosure;
The temp. at which it is possible to ignite gases emitted from the cables;
The quality of combustible gas released from the cable for a given temp. rise;
The volume of air passing through the cable installation;
The construction of the cable, for example, armored or unarmored.
Apparatus:
The test apparatus consist of the following:
Test Chamber:
The test chamber comprises of a vertical test chamber having a width of (1000±100 mm) and a depth of (2000±100 mm) and a height of (4000±100 mm) ; The floor of the chamber raised above the ground level.
An outlet 300± 5mm x 1000± 10mm has been made at the rear edge of the top of the test chamber. The back and sides of the test chamber has been thermally insulated. The cables to be has to be fixed to the steel ladder mounted within the test chamber in such a way that the distance between the ladder and the rear wall of the chamber is 150±10mm.
Control Panel:
The control panel comprises of one set of flow meters, pressure gauges and regulators; each for air and LPG. Inlets and outlets of air and LPG has been provided on the rear of the panel box. Panel has been fixed on a plate form of table height.
Air Blower:
A air blower has been provided to give controlled amount of air inside the chamber. The amount of air can be observed by means of anemometer.(Calculations enclosed)
Ignition Source:
A ribbon type LPG burner whose producing surface consists of a flat gun metal plate 341mm long and 30mm wide through which 242 holes of 1.32mm in diameter are drilled on 3.2 mm centers in three staggered rows of 81, 80 and 81 holes each to form an array having the nominal dimension 257mm x 4.5mm. Additionally, a row of small holes may be milled on each side of the burner plate to serve as pilot holes with the function of keeping flame early
Contact Us
NO. 177/8, Main Road, Chandan Vihar, Nehru Gali, Sant Nagar (Burari), Delhi, Delhi, 110084, India
Phone :+918068213673